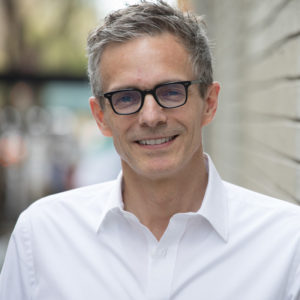 Jamer Hunt
Vice Provost for Transdisciplinary Initiatives
Associate Professor of Transdisciplinary Design University
The New School, Parsons
The Powers of Eleven: 
How Shifts in Scale are Remaking the Possible
We often think of scale in two straightforward ways: as a means for comparing the relative size of things, or as a process for increasing the market share of a business product. In this presentation, I will suggest that we must begin to understand scale as a conceptual framework for thinking through the present. Digital dematerialization and network entanglements are deforming our perception and conception of scale and unsettling our capacity to link cause and effect — or design with its outcomes. Cutting across disciplines and ranging across topics (from ants to traffic circles and from surveillance systems to COVID-19), this presentation will x-ray our current social predicaments and outline design strategies for navigating the complexity of our many "broken" systems. 
Biography
Jamer Hunt collaboratively designs open and adaptable frameworks for participation that respond to emergent cultural conditions — in education, organizations, exhibitions, and for the public. He is the Vice Provost for Transdisciplinary Initiatives at The New School (2016-present), where he was founding director of the graduate program in Transdisciplinary Design at Parsons School of Design (2009-2015). He is also Visiting Design Researcher at the Institute of Design in Umea, Sweden. He is the author of Not to Scale: How the Small Becomes Large, the Large Becomes Unthinkable, and the Unthinkable Becomes Possible (2020), a book that repositions scale as a practice-based framework for navigating social change in complex systems. Fast Company has named him to their list of "Most Creative People."  With Paola Antonelli at the MoMA he was co-creator of the award-winning, curatorial experiment and book Design and Violence (2013-15). They have also collaborated on the Design and the Elastic Mind symposium as well as on HeadSpace: On Scent as Design, and he served on her Advisory Committee for the XXII Milan Design Triennial Broken Nature. With Hilary Jay he co-founded DesignPhiladelphia in 2005, at that time the country's largest design week. He has published over twenty articles on the poetics and politics of design, including for Fast Company and the Huffington Post, and he is co-author, with Meredith Davis, of Visual Communication Design (Bloomsbury, 2017).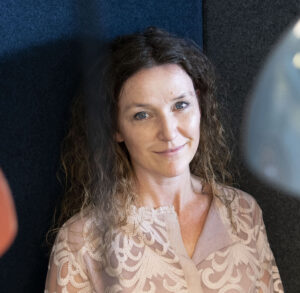 Lene Tanggaard
Rector Cand. psych., PhD and Professor Design School Kolding
Creativity – a Matter of Scale?
In this presentation, the point of departure will be the recent moves in creativity research towards more relational, distributed and cultural-historical, systems-oriented perspectives on creativity. This implies that researchers increasingly try to research creativity in real-life settings outside the laboratory or the testing situation, even if the lab or the test are still the norm instruments researching creativity. However, cultural-historical, relational and distributed theories make the way for larger, more encompassing and broader ideas of what creativity is. Accordingly, moving outside the laboratory requires creativity researchers to think more about scales; going from the small and controllable lab or testing situation towards reaching the complexity of creativity in the midst of everyday life. This means going from researching situations (in the lab,  in the testing situations or in the survey) towards understanding the process of creativity or of being creative as it moves along trajectories of participation in social practices in material and temporal terms not downsized to one point in time measured by one instrument. Although the concept of scale has not been in the center of research on creativity from cultural-historical, relational and distributed perspectives, it might pave the way for new, innovative, methodological experiments. What this might mean for understanding and researching design and not least the process of being creative as a designer will be discussed.
Biography
Lene Tanggaard is Rector at Design School Kolding and Professor of Psychology in the Department of Communication and Psychology at the University of Aalborg, Denmark where she has been advisor for more than 20 PhD.-students and Director of The International Centre for the Cultural Psychology of Creativity (ICCPC), and Co-Director of the Center for Qualitative Studies, a network of more than 90 professors and researchers concerned with methodology and development of new research tools. She is regional editor of The International Journal of Qualitative Research in Education. Recent publications include: Glaveanu, V. P., Tanggaard, L. & Wegener, C. (2016red.), Creativity: A new vocabulary Palgrave Macmillan, Tanggaard, L. (2018). Creativity in Higher education: Apprenticeship as a 'thinking-model' for bringing back more dynamic, teaching and research in a university context. In: J. Valsiner (red.). Culture and Higher Education: The making of knowledge maker. (1. udg., Vol. 1.) and Tanggaard, L. (2018). Content-driven pedagogy: on passion, absorption and immersion as dynamic drivers of creativity. In: R. Beghetto & G. Gorazza (ed). Dynamic Perspectives on Creativity: New Directions for Theory, Research, and Practice in Education. (1. udg., Vol. 1).
Celia Lury
Professor in the Centre for Interdisciplinary Methodologies at Warwick University
How do we count ourselves? The new Political Arithmetic of Personalisation 
Scholarship on the history of statistics has provided us with an understanding of the crucial role of 'political arithmetic' in classical liberalism, where subjects perceived themselves as autonomous individuals with separate interests in an abstract system called society. This society and its component individuals became intelligible and governable through what has been described as a deluge of printed numbers. Probabilities enabled commensuration and comparison of distributions  in a way that made society as a whole intelligible and governable. The proposal developed in a collaborative project, People Like You: Contemporary Figures of Personalisation (peoplelikeyou.ac.uk) is that the categories, numbers and norms of this 'statistical' political arithmetic have changed in a ubiquitous culture of personalisation. In this paper, Celia will develop this claim by exploring the kinds of scaling that are at work in the emergence of 'personalised generics' such as #MeToo and MyUniversity, focusing on their relational, comparative and perspectival possibilities.
Biography
Celia Lury is Professor in the Centre for Interdisciplinary Methodologies at Warwick University. She is currently working on a collaborative medical humanities project: "'People Like You': contemporary figures of personalization". A new publication is Problem Spaces: Why and How Methodology Matters, Polity 2020. Deriving from her interest in the way 'live' methods represent social worlds, she works on interdisciplinary methodologies, feminist and cultural theory, sociology of culture, consumer culture, and algorithms. Celia Lury is co-editor of Routledge Handbook of Interdisciplinary Research Methods (Routledge, 2018), Inventive Methods:  the Happening of the Social, (Routledge, 2012), and Measure and Value (Blackwell, 2012), among other volumes.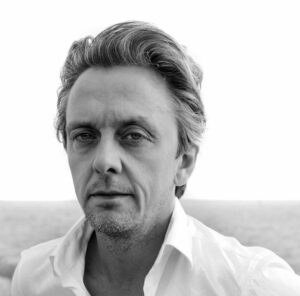 Mikael Colville-Andersen
Urban designer, author and host of the documentary TV series The Life-Sized City
The Life-Sized City
Through his work as an urban designer in over 100 cities around the world and his experiences filming his global TV series about urbanism, The Life-Sized City, Mikael will speak about how in this, the Age of Urbanism, we are thinking differently about our cities for the first time in a century. We need to return to designing our cities for people instead of merely engineering streets. Citizen engagement is a key element in our shift towards life-sized cities. Mikael will inspire with his philosophies as well as fantastic ideas he has seen in his work all over the planet. 
Biography
Mikael Colville-Andersen is one of the leading global voices in urbanism. He has worked in over 100 cities around the world, advising about how to design – and embrace –  bicycle and pedestrian friendly streets in order to improve urban life. He is known for his pioneering philosophies about simplifying urban planning and how cities and towns should be designed instead of engineered. Mikael is the author of Copenhagenize – the definitive guide to global bicycle urbanismand the host of the urbanism tv series The Life-Sized City and he inspires with his keynotes around the world about how to make cities better through design thinking, how cities should be at the forefront of fighting climate change and how this Age of Urbanism is inspiring citizens around the world.