Nordes 2021 is hosted jointly by Design School Kolding and the University of Southern Denmark (SDU) – Kolding.
The main conference venues will be shared between to two institutions which are situated just 150 meters apart, and close to the center of the city of Kolding and the fjord.
Getting to Southern Denmark is easy
There are numerous ways to get to Kolding and around in Denmark if you want to prolong the stay. Long distances can be covered by plane, train, bus or car. The public transportation in Denmark is very reliable, punctual, and it takes you everywhere.
If traveling long distance by plane you can fly to either Copenhagen Airport (CPH) or Billund Airport (BIL) in Denmark or Hamburg (HAM) in Germany and continue from there. These airports are directly connected to more than 400 cities all over the world and handle approx. 50 mill. arrivals and departures every year.
From the train station in Kolding, there is approx. 800m to the venues at Design School Kolding and University of Southern Denmark.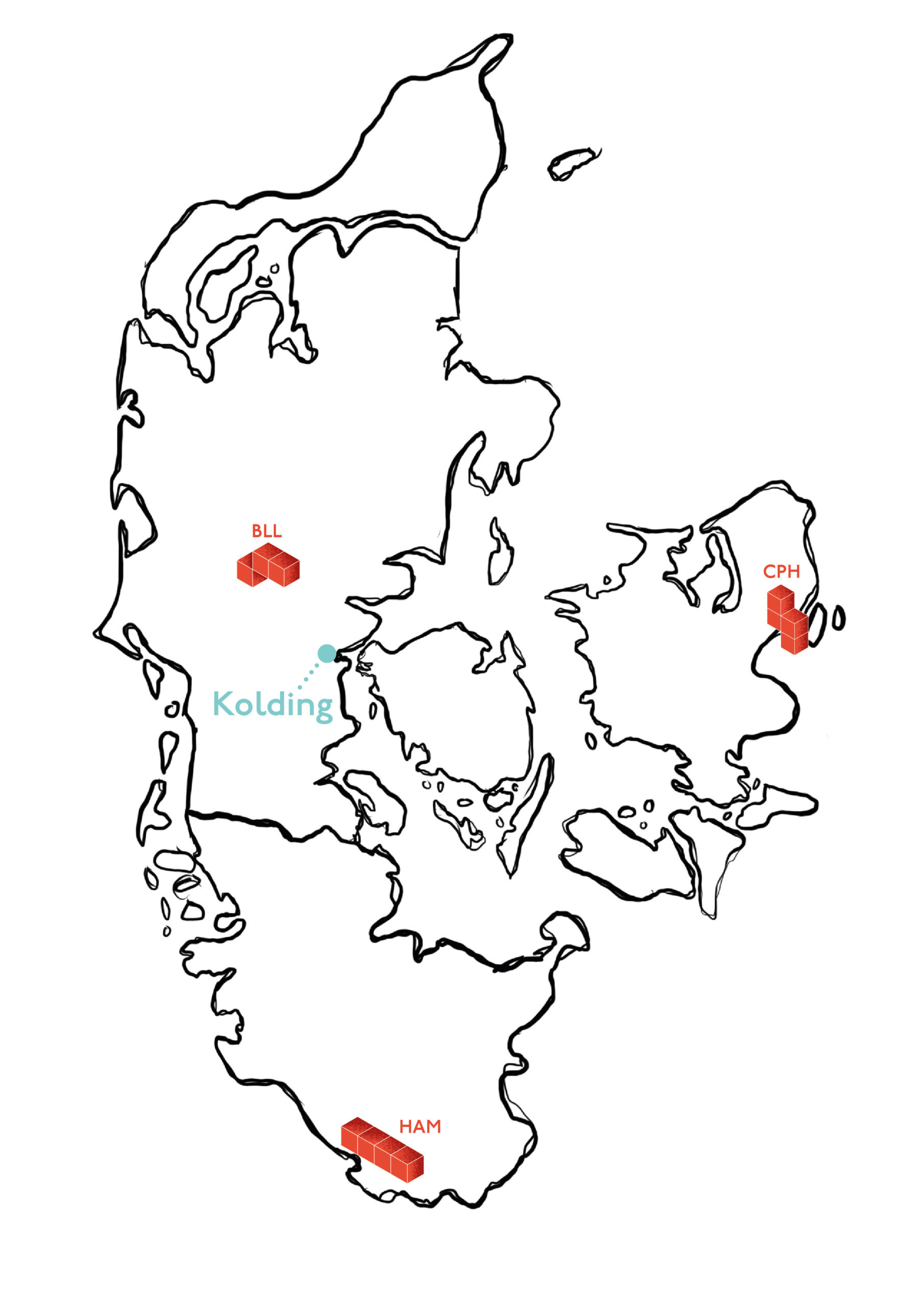 From Billund Airport

1 h 30 min by bus and or train

45 min by car
The bus departs every 2 hours from Billund airport to Kolding.
For information about the airport, arrivals and departures and car rental please click here: Billund Airport
Taxa: Phone no.: +45 75 50 27 00
From Hamburg Airport 
3 h 30 min by bus and/or train
3 h by car
From Copenhagen Airport (Kastrup) 
2 h 45 min by bus and/or train
2 h 30 min by car
If you arrive at the Copenhagen Airport, tickets for the train and/or bus are available from the DSB ticket office above the railway station in Terminal 3 or from ticket machines in the station area, which is located on the ground floor.

For information about the airport, arrivals and departures please click here: Copenhagen Airport (Kastrup)
You have to take the metro or train to Copenhagen central station. Trains leave every 10 minutes from the airport to Copenhagen. From Copenhagen central station you can take the train to Kolding, it leaves approx. every hour. The journey from Copenhagen Airport to Kolding takes approx. 2 hours 45 min.
For information about train services or tickets:
Journeyplanner: Nation-wide planner covering all public transport.
Here you can purchase your ticket online. 
In 2017 Kolding was appointed a UNESCO design city. With the clear vision 'We design for life' Kolding Municipality wants to implement design in every aspect of their work in close collaboration with citizens, educational institutions, business owners and public actors representing the entire municipality.
Kolding is the seventh largest city in Denmark with approx. 61.000 inhabitants. Its history can be traced back to 1231. The beautiful castle of Koldinghus is the centrepiece in the medieval city centre, given a young and vibrant feel by the many educational institutions. Situated by Kolding Fjord, water, woods and beach are nearby.
Koldinghus Museum has a unique display of the long history of Danish Design and crafts traditions.
Trapholt is a museum of modern art, crafts, design and furniture design.
If Kolding should be described with one word, it would be design. Home to the School of Design. Design is essentially experimentation gone right. Danish Design icons, like furniture designers Arne Jacobsen and Hans J Wegner, were bringing new ideas of a physically and socially more mobile society into action with chair designs that were affordable, functional aesthetic upgrades to the crammed, clothrich and bacteria ridden dark rooms of a preceding era. Chairs and furniture were the mere tools of their experimentations, means to an end. Their ambition was really to solve a societal problem and improve the world around them. You will find the largest collection of Danish Design classics at Trapholt in Kolding along with a chance to catch sight of the next shining design star or go deeper into the thought universe of the furniture making masters.
Want to explore further? 
Download the Visit Denmark's folder of Kolding and/or maps of Kolding and the entire municipality